Completed Staff Work (CSW) is a topic generally considered to be a part of decision making. However, it also has its origins in ancient times according to Russ Wescott in, "Completed Staff Work Revisited" published in the Quality Press, March 2007. There is little really published about the topic in the form of books. There is one other book published in the Phillipines on the topic.
You will find information on the Internet, mostly in short article or essay form. You will find information in Wikipedia provides a very brief section on the topic.
A search of the Internet will also reveal that the Canadian Army contributed to the development and use of CSW. This article appeared in the Canadian "Regimental Rogue" publication in 1943.
There are a couple of exceptions: Stephen Covey, in Principle-Centered Leadership, published in 1992, devotes an entire chapter (23) to the subject o Completed Staff Work. In this chapter he provides some examples and provides a compelling argument for its use. On page 238, he states, "Completed Staff Work is one of the best ideas to come out of an otherwise militaristic, authoritarian model of management". It should be noted that many people attribute this subject to the U.S. Army. Most information available generally attributes its development as doctrine to the military. He has one section that should be of particular interest to leaders, found onpage 240. This section provides a "How to Get Completed Staff Work". His reference to a conversation between Henry Kissenger and one of his staff encapsulates the rationale for CSW. I encourage you to read his book and specifically Chapter 23.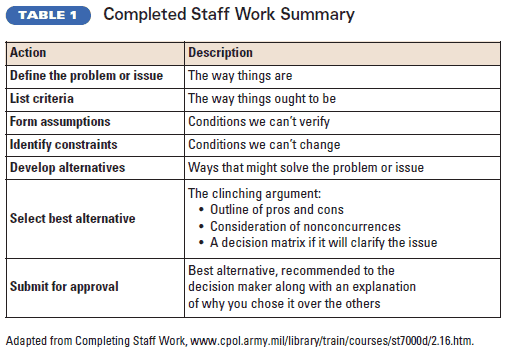 As a student of the process and an instructor for Los Rios Community College District I spend 40-50 days a year teaching CSW in a two-day format to employees of California State government. This subject is an important subject and has been part of the in-service training provided to employees for over 50 years. For people desiring a job as a Staff Services Analyst the information contained in the document,, Become an Analyst for the State of California - A guide to help you develop your analyst skills will be helpful. The graphic to the left summarizes the process. For more information about this topic, or to bring this course to your organization use the contact form on my website or email me directly.